This is the second step in adding
a client.
Enter the current gross salary and the anticipated annual increase within the salary card.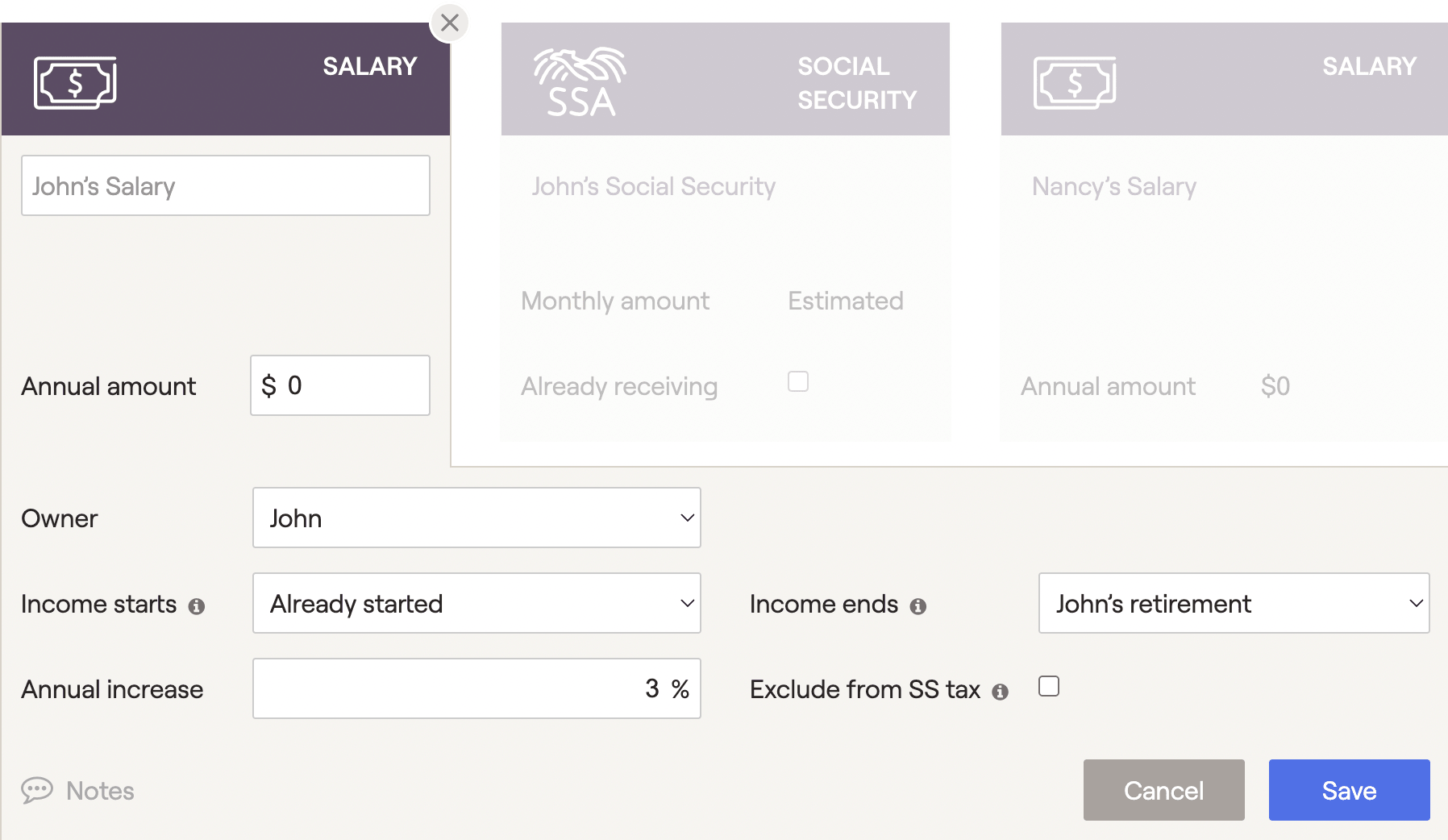 The Social Security card lets you indicate if clients are receiving social security, the filling age, and the estimated benefit amount. For more information on entering Social Security, please reference this article.
You can also add new income sources by clicking the blue Add Income button. This will create a new card that you can edit.
You can specify when the income starts and ends for each additional income type. Options include:
Specific calendar years

The client or co-client's specific age

"Already started" (which presumes the income is valid from today forward)

The client or co-client's year of retirement

The client or co-client's end of plan
Salary: This is for individuals receiving W2 income. Please note this should be a gross figure.
---
Self-employment:
For self-employed individuals, enter their self-employment income here. Self-employment income is subject to self-employment taxes. If the 'Service Income' checkbox is checked, the client's income is subject to the
phase-out of their QBI deduction
. All the Schedule C calculations are fed into the tax projection and projected 1040, even though a Schedule C is not displayed on the projected 1040 in the
Tax > Details
screen.
---
Pension: Enter the amount and timing of the pension income. Pension income can be for life or a specific period. Optionally, enter the 'Survivor %' to indicate how much income would be passed on to a surviving spouse.
An exclusion ratio calculates how much cost basis is included in a withdrawal from a pension or income annuity.
We will apply the WEP calculation if a Pension income card is entered for the client with the 'Non-covered' box checked.
For pensions that are not subject to state tax, users can check the 'State tax exempt' box to exclude the entire pension amount from state taxable income. If the box remains unchecked, it will be subject to the state-specific rules for pension income.
---
Annuities: Enter the amount and timing of annuity income for a single-premium income annuity (SPIA) or deferred income annuity (DIA). Annuity income can be for life or a specific period. Optionally, enter tax parameters for cost basis and exclusion ratio. Additionally, indicate if the pension is tax-exempt at the state level.
---
---
Bonus: Enter the amount and timing for bonus income. Contributions can be a dollar amount or percentage of salary income. Bonus income can be excluded from Social Security taxation. When bonus income is associated with self-employment, you can specify whether this is subject to QBI phase-out associated with service income.
---
Child Support: Will be taxed as child support.
---
Alimony: Will be taxed as alimony, using rules for divorce agreements signed before 2019.
---
Royalties: Will be taxed as royalties.
---
Inheritance: Enter the amount and year of an anticipated inheritance. Inheritance income is tax-free.
---
Reverse Mortgage: Users can enter the income associated with a future Reverse Mortgage. This data card will also allow users to indicate interest rates, fees, closing costs, and which property the reverse mortgage is tied to.
---
New Loan: Users can enter the amount of income associated with various future loans. By entering this data, card users create a new loan in the future that can be related to property and paid off over time.
---
Other Income: Use the 'Other income' option to enter any additional income amounts. You can select the tax treatment from the 'Taxes' drop-down box. All these options will be reflected in cash flows except for 'Tax credit', which only impacts taxes.
Minister's housing allowance will only be subject to self-employment tax, Social Security tax & Medicare tax.