A Single Sign-on, commonly referred to as an SSO, is an authentication method that allows you to securely access multiple applications (Orion & RightCapital) with a single set of credentials. Once you have been authenticated by logging into Orion, you can securely access RightCapital software without having to re-enter your credentials. This saves you time and creates efficiencies as you cycle between your financial technologies. For information about the Orion Integration, please click here.
In order to enable the RightCapital SSO in Orion log in, Select Connect > Manage Users > Edit Role > Apps > Integrations > RightCapital. Click the Enable checkbox to enable the SSO capability.
You should then see the RightCapital app displayed in Orion:
Make sure you are signed into RightCapital, and then click on the RightCapital app. It will bring you into RightCapital and ask you to confirm the SSO setup: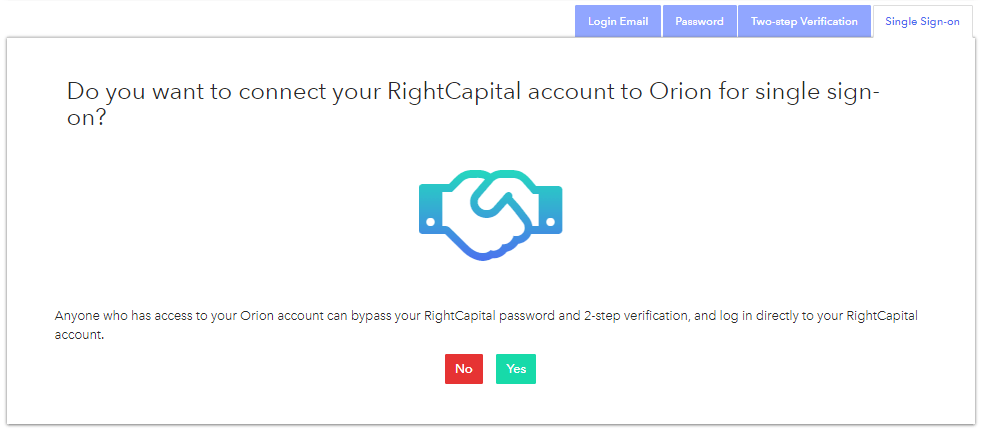 Once you click on 'Yes', the SSO setup will be complete! When you click on the RightCapital app in Orion it will bring you directly into RightCapital.
RightCapital is committed to enabling your success. Each week, we set aside time to cover important updates and host a Q&A with the product team, giving you a direct line of access to the experts behind the curtain. Visit the Upcoming and Most Recent Webinars area to register today!
Also, be sure to check out the Getting started guide and our YouTube channel for more!
For additional assistance leveraging the Orion Single Sign On in RightCapital please contact Support.