Welcome, and thank you for choosing RightCapital as your financial planning solution. This article aims to empower you to meet your financial planning objectives and deliver meaningful presentations within our platform. In the contents below, you will find a roadmap for success when getting started with RightCapital.
We find that the best way to learn RightCapital is to use it, so let's jump in! Below are seven easy steps that will allow you to hit the ground running when getting started:
If you are an
Admin Assistant
getting started with RightCapital,
click here
to learn more about your specific roadmap for success!
When you need assistance in RightCapital, understanding where to go for help is an essential first step in achieving your goals. From the first time you log in to RightCapital, you will have full access to advisor resources. Whether you've been designated an Onboarding Specialist to help you accelerate the learning curve or whether you are looking for a case review before presenting your first plan, we are here to help! Review the resources and connect with product experts to make the most out of your RightCapital experience. Click the links below for additional information:
Many subscriptions include an Onboarding Specialist. Be on the lookout for an email or phone call in the first week of your RightCapital subscription to book time with these devoted staff. They can assist you in the initial setup of your software and answer any questions. If you are unsure whether your subscription includes an Onboarding Specialist, please contact your sales rep.
RightCapital Support: Chat with us, Call us, Email us, or schedule 15-30 minute case reviews with resident software experts. We're here to help!

Recurring Training Webinars: Product experts hold weekly training webinars to ensure you have the tools you need to succeed. These webinars have been designed to complement our onboarding process. Use the link above to sign up for a live Q & A session with our experts or watch a pre-recorded webinar.
| Recurring Training Webinars | Date | Time | Registration |
| --- | --- | --- | --- |
| Creating your First Plan | Every Tuesday | 2:00PM ET | |
| Presenting your First Plan | Every Thursday | 2:00PM ET | |
Every advisor has the flexibility to personalize the RightCapital experience to their individual specifications. The first place an advisor should visit to customize the user experience is the Advisor Portal > Gear Icon > Account area (seen in the screenshot below).

Within the account area, advisors who are just getting started can begin by adjusting the following information:
The profile area will allow advisors to input their name, certifications, and firm information and add report disclosures, needed for compliance purposes. This area is used to populate the information found on the cover page of each report that is generated. It also includes the RightCapital Leads URL which is a prospecting tool that can be built into your website, marketing campaigns, and email signature.
First impressions are everything. Successful advisors ensure their clients have a consistent user experience by branding RightCapital software and customizing client invitation emails within the Account> Customization tab. Start by uploading your logo & color theme, then review the invitation email templates at the bottom of the page (these features are not accessible for trial users). For more information on branding click here.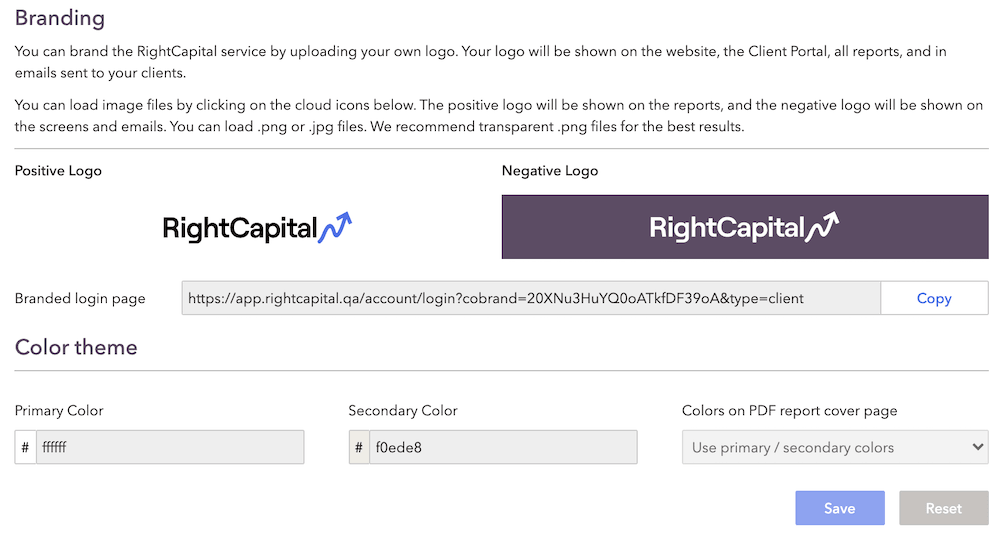 After taking a few minutes to brand RightCapital and enter firm details, it is important for advisors to review the assumptions and settings that come with their new subscription. This includes asset return assumptions, inflation assumptions, and important settings. If needed, customize this information to align financial planning outcomes with your firm's unique advising philosophy and client needs.
The following information describes where advisors can adjust the global capital market assumptions and settings for all new clients created in RightCapital.
Asset return, inflation, and miscellaneous assumptions can be customized to reflect each advisor's unique values. Global capital market assumptions can be found in the Advisor Portal > Assumptions tab (as seen in the screenshot below). As a default, RightCapital assumptions are based on historical averages. For informative articles on global asset return assumptions and inflation assumptions click the associated links.

Review this video for more information on customizing return assumptions.
Client settings are used to tailor the financial planning approach to your unique advising philosophy and save time with data entry when creating individual plans. The global client settings that will be automatically added to each new client can be found in the Advisor Portal > Gear Icon > Account tab > Client Presets tab (as seen in the screenshot below). Take time initially to review the available settings and align your favorite choices with each new client you create. For an informative article that describes global client settings click the associated link.

Review this video for more details on customizing global client settings.
RightCapital is known for creating a financial plan in under ten minutes. To make the process of adding clients even simpler, connect your RightCapital account with any of our integration partners. Successful advisors use integrations to import client household data, position-level account details, risk management information, and portfolio analytics. To access our list of integration partners and connect them to your RightCapital subscription, visit the advisor portal> Integrations area (as seen in the screenshot below) and choose a partner from the list to learn more.

For a full list of integration partners and details on their capabilities please click this link.
Congratulations! You have explored available resources, personalized your account, reviewed assumptions and settings, and connected with important integration partners. You are now ready to create your first financial plan within RightCapital.
First,

create a financial plan for yourself

and

invite yourself

with a personal email to view the client portal and associated

mobile app

. Using data that is familiar to you will shorten your learning curve.

Then

invite a trusted client

to create an account and provide feedback on the onboarding process and client portal. Utilize our

client-facing resources

to help answer any questions that come up along the way.
To add a client, navigate to Advisor Portal > Clients > Add a New Client.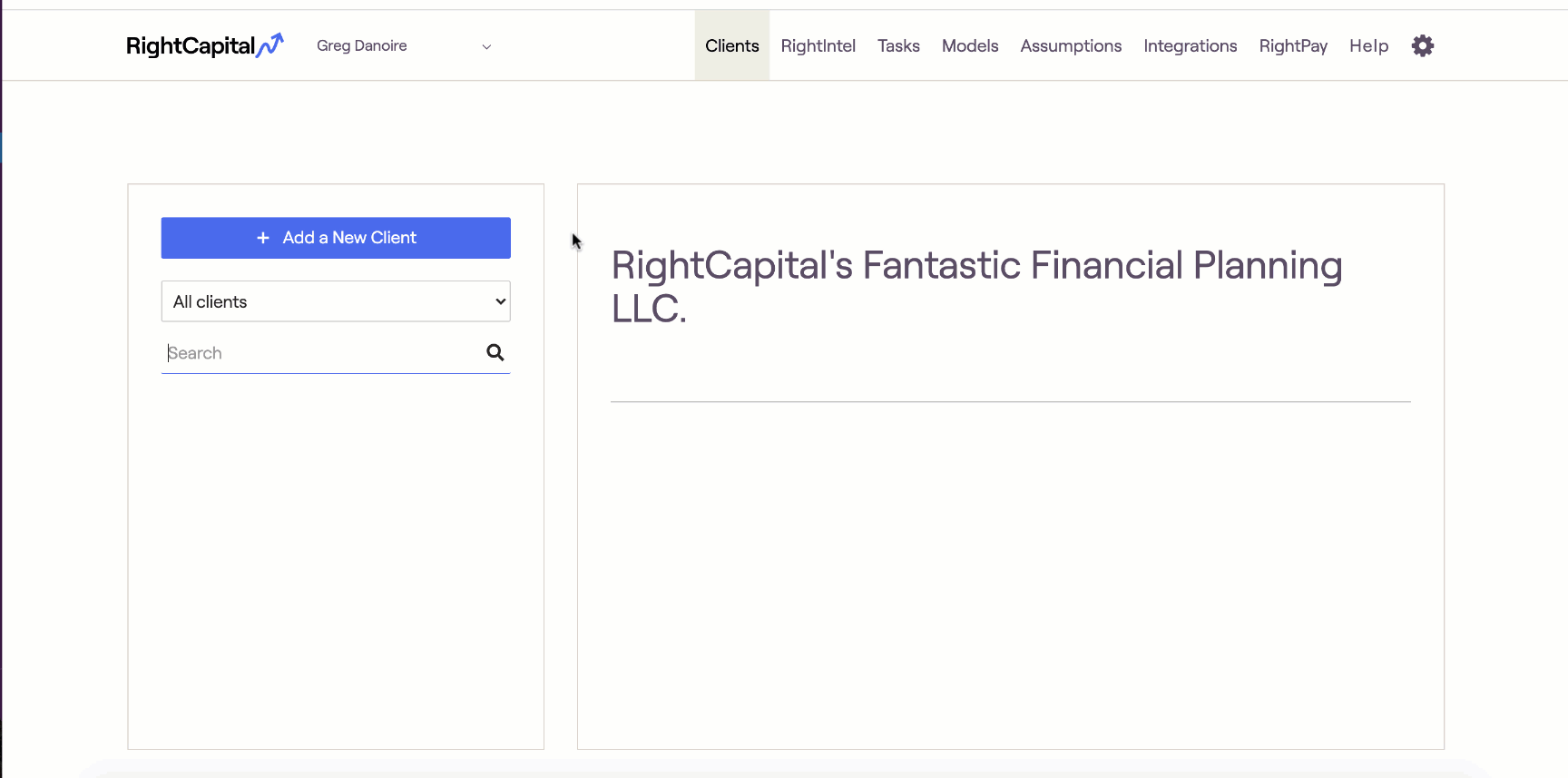 Selecting Input Client's Information Now will launch the intuitive data entry wizard, consisting of six steps.
Selecting Invite Client to Input Information will send an automated email to your client, allowing them to walk through the six-step entry to add their information to RightCapital.
For a guided video walkthrough of Creating your first plan and Presenting your first plan, click associated links to review pre-recorded webinars on these important topics. For individual questions please reach out to our advisor Support Team.
You can drag and drop the various items to re-arrange the order they appear in the navigation menu. The new order of the modules will also display in your advisor view when you open the plan. This functionality can be used to update the landing page when you first open the plan.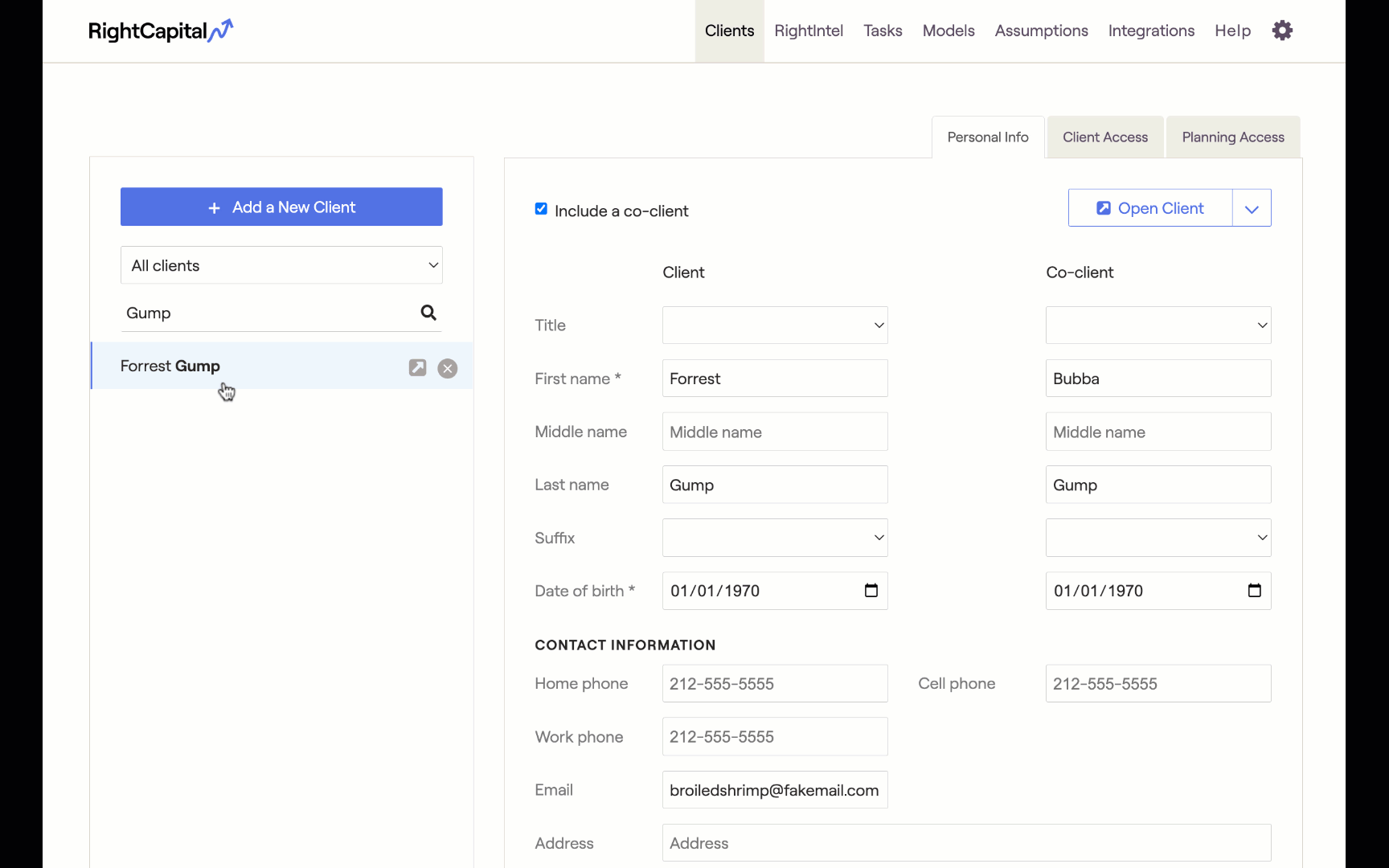 Now that you have established your account and created two financial plans you are ready to explore all that RightCapital has to offer. But remember that you are not alone, our goal is to empower you to meet your financial planning objectives within our platform, and we are committed to your success! If you have any questions about the software or the outcomes that it produces, please reach out to our Advisor Support Team or your Onboarding Specialist. If you are unsure if your subscription came with an Onboarding Specialist, please reach out to your sales representative.