RightCapital is designed to achieve financial planning, done just right. You are always in control of the advising philosophy and the underlying assumptions involved. You have complete control over each and every client's individual account assumptions, providing a platform for world-class, personally tailored advising.
This tab allows you to demonstrate what happens with the investments should the client or co-client pass away. You can specify the percentage of assets that pass to the surviving spouse at death as well as to capture previous year account values to improve first year RMD calculations.
You will find the Account Assumptions tab within each client plan by clicking the Gear Icon > Settings > Account Assumptions sub-tab.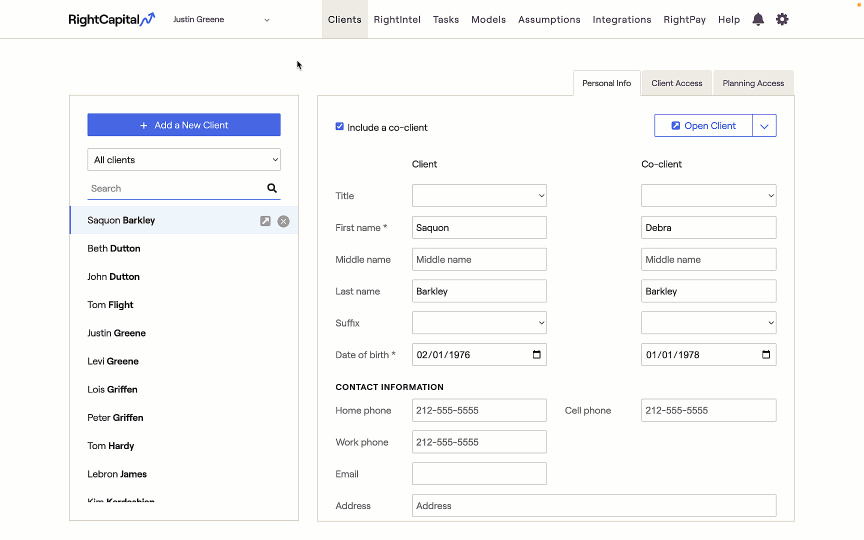 Specify the % of each account type that will pass to the surviving spouse at death. The specified % of assets will remain in the plan to fund the cashflows for surviving spouse and the rest will be assumed to be distributed to beneficiaries outside of the plan. We can see the value leaving the plan in the Cash Flows / Invested Assets / Beneficiary distribution column as well as in the Estate / Analysis flowchart
In the above example, we are passing 50% of Mr.'s 401(k) on to Mrs. upon his passing away at age 90. We will see this displayed in the Retirement > Analysis > Cash Flows > 'Invested Asset' sub-tab in the 'Beneficiary Distribution' column: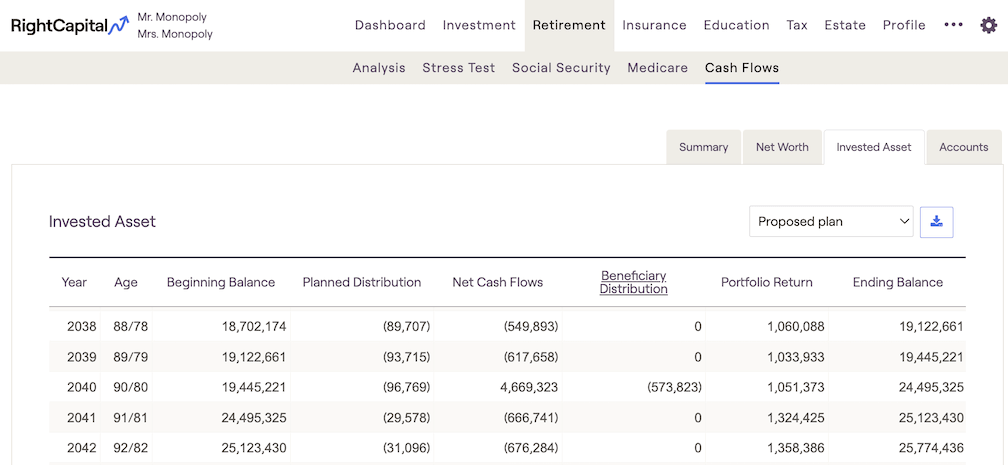 The remaining 50% of account value is assumed to be passed on to beneficiaries outside of the plan and is no longer factored into the plan.
For clients at or nearing RMD age, current value vs. specified year-end value are options that may influence the RMD calculation in the 1st year cash flow projection.

If current value is selected, the 1st cash flow year RMD will be calculated based on the account's current value listed within the balance sheet.

If specified year-end value is selected, enter the previous year's Dec 31st value and the RMD will be calculated based on that figure.
The software defaults to the surviving spouse receiving 100% of the investments unless specified otherwise within the Account Assumptions tab. Additionally, first year RMD calculations will be adjusted based upon the selected setting. If we adjust these variables this can impact the Retirement Module, Education Module, Estate Analysis and Insurance Analysis tools.